Twain Harte Man Tased After Fighting With Deputies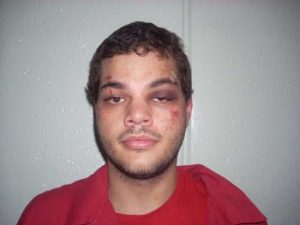 Tyler Horton

View Photos
Twain Harte, CA – A taser gun had to be used on a Twain Harte man after he fought with Tuolumne County Sheriff's Deputies – getting his hand on a baton and gun.
Deputies were called to a family disturbance early Monday morning at a home on Cedar Springs Road in Twain Harte. The report cited that resident, 19-year-old Tyler Horton, was acting violently and high on drugs. As deputies pulled up to the home, they could hear Horton screaming from inside the house. Sheriff's officials relay that deputies tried to talk him out of the residence, but Horton, who was sweating profusely, suddenly came running outside and began attacking them.  While Horton was punching and kicking the deputies,  he also was able to take a baton from one of the deputy's duty belts, which was reportedly quickly taken from him. It was then that a deputy tased Horton, who was barely fazed by the weapon, and continued to struggle with officers who noted Horton "displayed a high level of strength and resilience to pain."
Even after being tased Horton was still able to pull off the leather hood over a deputy's gun while grabbing for it, according to sheriff's officials. The fight lasted for over fifteen minutes until back up arrived and Horton was subdued.
During questioning Horton revealed that he had taken "shrooms," a psychotropic drug similar to LSD. Once given a medical evaluation at Adventist Health Sonora he was arrested for being under the influence of drugs, attempting to remove a firearm from a law enforcement officer, taking a weapon from a law enforcement officer, and resisting arrest. None of the officers were seriously injured in the assault.