Deputies Arrest Alleged Dealer Asleep On The Job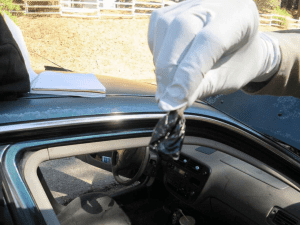 Heroin recovered in Rizzuto arrest Oct 5 2018

View Photos
Sonora, CA – An alleged heroin dealer literally, found snoozing in a Sonora driveway faces related drug charges.
Tuolumne County Sheriff's spokesperson Sgt. Andrea Benson shares that deputies on Friday responded to a home on American River Drive for a report of a passed out man inside a vehicle, which had sat parked in front of a driveway for several hours.
Deputies and medical personnel on scene were able to wake 22-year-old transient Joseph Rizzuto. As drug paraphernalia was visible inside the vehicle, it was searched, which turned up additional drug paraphernalia along with nearly three grams of heroin and evidence of drug sales.
Rizzuto was booked into the Tuolumne County Jail for possession of a controlled substance for sale and possession of drug paraphernalia with an assigned bail of $20,000.