Medical Marijuana Dispensary Proposed For Sonora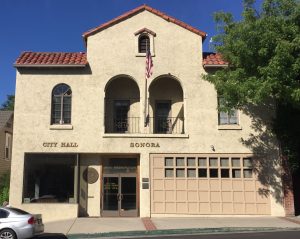 Sonora City Hall

View Photos
Sonora, CA — The City of Sonora's Planning Commission will review a proposal for a medical cannabis dispensary on Mono Way.
The city notes that the application was submitted by Jeff Muzio of Hazy Bulldog Farms, LLC. The planned location is 1243 Mono Way, which is west of the Sanguinetti Road (McDonalds) intersection. The proposed development agreement with the city would span three years. The company would pay the city a "Public Benefit" payment each month to offset or mitigate any potential impacts of the project. It would be no less than $10,000 per month, or 5-percent of the gross monthly receipts. The project would be subject to security protocols, security cameras, an alarm system, odor control requirements, insurance requirements and a waste management plan.
The proposal will go before the Sonora Planning Commission this coming Tuesday, October 9, at 5:30pm in Sonora City Hall. The commission vote will simply be a recommendation and the final decision will be made by the city council at a future meeting.