Angels Camp Tractor Supply Has One More Small Hurdle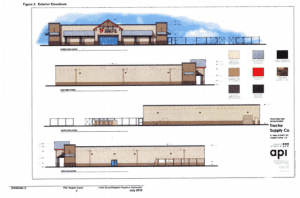 Tractor Supply Proposal In Angels Camp

View Photos
Angels Camp, CA — All but one item was finalized this week by the Angels Camp City Council in relation to the construction of a Tractor Supply Store on adjacent parcels at 389 and 407 North Main Street.
The council voted unanimously to approve the developer's site plan review, a variance for outdoor displays, removal of oak trees, a parcel merger and the demolition of existing structures. City Planner Amy Augustine notes that the council also approved the first reading of an ordinance related to rezoning, and a final reading will come at the October 16 meeting. Assuming that is approved, which it is expected to be, the project could effectively move forward after that meeting. The applicant, California Gold Development Corporation, has been working concurrently to acquire the needed building permits. The total project, including the retail sales building and outdoor display area, will be 36,671 sq. ft. The property was previously the Bergantz Nursery and is located across the street from Middleton's in the Mark Twain Center.
Tractor Supply, a national chain, has stores in locations like Sonora, Oakdale and Jackson.