Angels Camp Burglary And Arson Suspect At-Large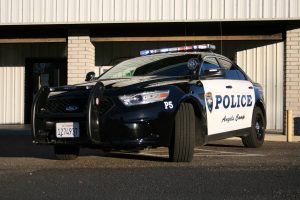 Angels Camp Police Department

View Photos
Angels Camp, CA — The Angels Camp Police Department has released new information about a fire we reported on at a downtown business.
During the four o'clock hour yesterday morning the PD received a report about a person carrying a pillowcase filled with items and running from an antique store in the 1200 block of Main Street.
An officer responded and found that the front window of the business was shattered and smoke was coming from the building. An investigation determined that someone had stolen jewelry and set fire to a blanket on display. The flames also caused damage to a nearby desk.
Fingerprints were collected from the business and the evidence will be sent to a lab for analysis. The PD is also working with nearby businesses in hopes of finding video surveillance of the suspect. Anyone with information regarding the incident should contact the Angels Camp PD at 209-736-2567. The suspect is described as being 6'0", thin build, and wearing a black hooded sweatshirt and light colored pants.