Many Weather Related Traffic Hazards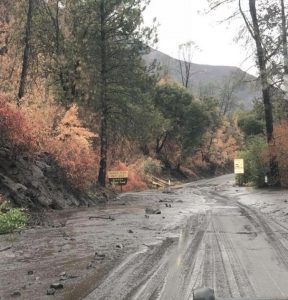 Roadway flooding in Mariposa County

View Photos
Sonora, CA — The wet weather has created some difficult driving conditions in the region.
The CHP reports that a mudslide has one lane of Buchanan Road in Tuolumne County completely blocked. However, there is a large rock that is close to falling which could completely block the road. Travel with caution in the area.
There was a mudslide reported on Confidence Road near Forest Vista Road, but most of the roadway is now clean.
A vehicle has overturned on Highway 108 near Chicken Ranch Road. The vehicle is off the highway and on its roof. No injuries have been reported.
Also, there remains one-way traffic control throughout areas of Highway 140 in Mariposa County due to mudslides that occurred yesterday. Vehicles over 45 feet are prohibited from traveling on the highway.