Update: Flash Flood Warning & Watches For Burn Scars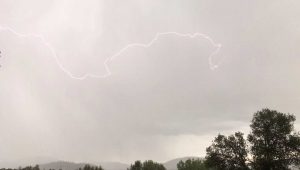 Lightning In Tuolumne County

View Photos
The National Weather Service has issued a Flash Flood Warning for central Mariposa County and southwestern Tuolumne County until 4:15 PM.
At 1:15 PM PDT, Doppler radar indicated thunderstorms producing heavy rain across portions of the Ferguson Fire burn scar. Flash flooding with debris flows is expected to begin shortly. The debris flow can consist of rock, mud, vegetation and other loose materials.
Some locations that will experience flooding include Yosemite National Park, Bootjack, El Portal, Jerseydale, Gin Flat and Crane Flat.
Move away from recently burned areas. Life-threatening flooding of creeks, roads and normally dry arroyos is likely. The heavy rains will likely trigger rockslides, mudslides and debris flows in steep terrain, especially in and around these areas.
Additionally, a Flash Flood Watch remains in effect for the Donnell Burn Scar and Ferguson Burn Scar areas through 7 PM this evening.
Flash flooding is possible this afternoon and evening in the Donnell Fire burn scar area.
Scattered showers and thunderstorms may produce intense rainfall that may cause debris flows and flash flooding in these areas.
Flash flooding and debris are most likely in these areas: Dardanelle Resort, campgrounds, Highway 108, Clark Road, the Ferguson Burn Scar area and the Stanislaus National Forest roads.
Heavy rain can cause flash flooding and debris flows in these recently burned areas.
A Flash Flood Watch means that conditions may develop that lead to flash flooding. Flash flooding is a very dangerous situation. You should monitor later forecasts and be prepared to take action should Flash Flood Warnings be issued.