TUD Prepares For Annual Ditch Outage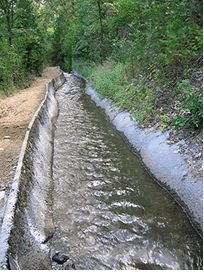 T.U.D. Ditch System

View Photos
Sonora, CA — Water conservation is urged starting next week while the Tuolumne Main Canal is shut down for regular maintenance.
The canal conveys 95-percent of the Tuolumne Utilities District's water supply, and without water flowing through the ditches, the only supply available is what remains in storage tanks and limited  groundwater wells.
Spokesperson Lisa Westbrook notes, "We can't stress enough that people should conserve water during this time. We're asking people to please limit outside watering, do not wash vehicles, turn off the automatic lawn and drip sprinklers, and repair any water leaks that they are aware of."
The main outage will run from this coming Monday, October 8 through Sunday, October 14. TUD asks that customers also conserve water during the week following, of October 15, in order for water storage to recover.  PG&E conducts the maintenance and repairs annually in the window after the hot summer season and prior to the cold and wet winter months.