Yosemite Increases Fire Restrictions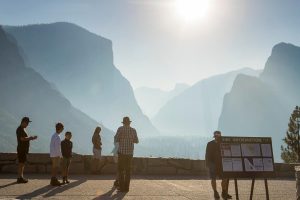 Smokey Yosemite Valley view from tunnel view in Yosemite National Park

View Photos
Yosemite, CA — Due to extreme fire danger, heightened by hot and dry weather patterns, Yosemite National Park has entered what it calls "Stage 2 Fire Restrictions." The park has been impacted by the 96,810 acre Ferguson Fire which is 87-percent contained.
The details are below:
·        The building, maintaining or attending of a wood or charcoal fire (including wood burning stoves) is prohibited within the Yosemite Wilderness, including at the High Sierra Camps, at all elevations.
·        Portable stoves using pressurized gas, liquid fuel or propane are permitted as are alcohol stoves (with and without a shutoff valve) including alcohol tablet/cube stoves.
·        Smoking is prohibited except within an enclosed vehicle, a building in which smoking is allowed, designated campgrounds, designated picnic areas, paved developed areas or designated smoking areas.
·        Campfires and cooking fires may still be used in designated campgrounds, designated picnic areas, commercial lodging and residential areas in developed portions of the park in accordance with park regulations.
·     There are no administrative exemptions to this order. Notice of closure will be posted and areas will be monitored to ensure compliance.  This designation will remain in place until rescinded.