Tuolumne County Cracks Down On Illegal Marijuana Operation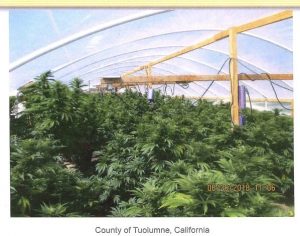 Illegal Marijuana Grow On Italian Bar Road

View Photos
Sonora, CA — The owner of a marijuana grow site on Italian Bar Road faces a $2.7-million bill from Tuolumne County.
The Board of Supervisors voted today to deny an appeal filed by Francisco Ramirez of Modesto on behalf of his business The Budfather Collective. An inspection carried out by the county's Community Resources Agency on June 26 found 1,521 marijuana plants illegally within 1,000 ft. of the Stanislaus National Forest, five structures were put up without proper permits, trash was stored illegally, a pump house was built without a permit, generators were unlawfully being used for permanent power and chemicals were being improperly stored, among other things. The location was between Diamond Placer Circle and Star Ridge Road.
The board approved a final abatement order, so everything in violation must be moved immediately, today. If not, the full penalty levied will be $2.7-million, which includes fines and abatement. If not paid within 30 days, it was indicated that the county would take additional steps at a future meeting, which could include a lien being placed on the land.
District Two Supervisor Randy Hanvelt stated, "I'm a little fearful that this will be the first of many of these kinds of things. But, getting right on it, swift abatement and action, is what is required in these cases."
District Three Supervisor Evan Royce praised the move as an effective way to regulate issues that can arise with unlawful marijuana grows.
The vote was 4-0 with Supervisor Karl Rodefer absent. No one spoke at today's meeting on behalf of the business.
It was noted that the Tuolumne County Sheriff's Office assisted the Community Resources Agency with the incident.