Adventist Health Sonora Honored For Nursing Excellence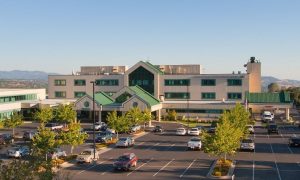 Adventist Health Sonora

View Photos
Sonora, CA — A national nonprofit monitoring group is sharing word that a Mother Lode hospital has won a pair of nursing excellence awards.
The Collaborative Alliance for Nursing Outcomes (CALNOC), which tracks and provides research on nurses' delivery of quality health care, has announced that it is recognizing Adventist Health Sonora with two of its Performance Excellence Awards.
Specifically, Adventist Health Sonora is receiving CALNOC's Best Performance in Preventing Hospital Acquired Pressure Ulcers and Best Performance in Preventing Hospital Acquired Infections for a MRSA Total Facility.
With regard to the latter honor, Centers for Disease Control and Prevention describes MRSA, an acronym for methicillin-resistant Staphylococcus aureus, as a type of staph bacteria that, resistant to many antibiotics, can cause severe problems — especially in a health care setting — such as bloodstream infections, pneumonia, surgical site infections and can even lead to sepsis and death if not treated quickly.
Proactive Safeguards For Patients
CALNOC notes that in 2017 Adventist Health Sonora achieved zero hospital-acquired MRSA bloodstream infections — and zero hospital-acquired pressure ulcers.
"By using evidence-based processes such as screening certain patient populations upon admission, initiating contact precautions for anyone with active MRSA infection, and utilizing a robust hand-hygiene program, we have been able to safeguard our patients from acquiring MRSA bloodstream infections in the hospital," explains Marti Carter, R.N., the hospital's director of quality.
Lisa Wooldridge, R.N., the hospital's wound care coordinator adds that with regard to preventing pressure ulcers, Adventist Health Sonora's aggressive preventative approach includes ensuring that all mattresses have pressure redistribution properties and patients are assessed and monitored for their level of risk of developing pressure ulcers.
CALNOC officials indicate that the awards will be formally presented at a conference in October.