Minor Traffic Stop Led To Big Bust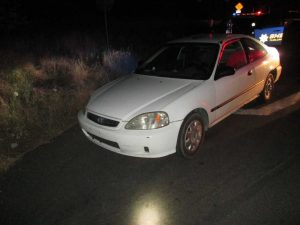 Vehicle involved in drug bust

View Photos
Soulsbyville, CA – A motorists driving erratically caught the eye of a Tuolumne County Deputy on patrol early yesterday morning.
The deputy was behind a Honda Civic on Soulsbyville Road around 1 a.m. on Friday and watched as it repeatedly crossed over the yellow-center lines of the roadway. Flipping his lights and siren on, the deputy pulled over the vehicle and ran a records check showed the registration was expired.
While questioning the car's occupants, driver, 27-year-old Joseph Zumwalt, and passengers, 28-year-old Molly Tucker and 37-year-old Cyrus Cole, it was revealed that Zumwalt had an arrest warrant out of Santa Cruz for burglary, vandalism and drug paraphernalia. A search of the vehicle uncovered drug packaging material, drug paraphernalia, a digital scale, cash, drug cutting agent, and heroin. Tucker also had heroin and drug paraphernalia hidden in her clothing.
The three were arrested on related drug sales offenses and booked into the Tuolumne County Jail.