Cap-and-Trade Funding Millions In Transportation Projects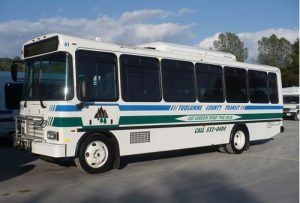 Tuolumne County Transit

View Photos
Sacramento, CA – 152 local projects in California will get a piece of the nearly 97-million dollar pie from Low Carbon Transit Operations Program (LCTOP) funding, including some Mother Lode projects.
Caltrans reports the money will continue California's effort to reduce greenhouse gas emissions and improve the sustainability of public transportation systems around the state. Additionally, more than 130 of the projects totaling $87 million will specifically benefit disadvantaged and low-income communities.
"This program is about making transit work better for more riders, funding expanded service and reducing fares, especially for those who face financial barriers to mobility," said Caltrans Director Laurie Berman. "Providing accessible, reliable and affordable public transportation all feeds into promoting a healthier environment, better access to economic opportunity and a higher quality of life."
LCTOP is one of several state programs under the California Climate Investments that are funded through auction proceeds from the Cap-and-Trade Program into the Greenhouse Gas Reduction Fund.
Caltrans released this list of local projects included:
$71,104 towards the Tuolumne County Transit Agency Service expansion to Weekend (primarily Saturday) and Special Events: Offer public transit service on Saturdays (and a few Sundays) between Sonora, Columbia and Jamestown between May and September. Additionally this project will include expansion of public transit to special events in the area that have traffic and congestion impacts, and no alternative mode of transportation currently.
$56,366 towards the Calaveras Council of Governments Saturday Hopper Service: Operations and marketing of the Saturday Hopper service that operates on Saturdays between San Andreas, Angels Camp, Murphys, and Arnold. The shuttle gives residents and visitors the opportunity to use public transportation for shopping, recreation, or employment on Saturdays.
$33,038 Yosemite Area Regional Transportation (YARTS):  Offer targeted populations from the City of Merced and Mariposa County reduced fares on public transit to access such sites as Yosemite National Park. This program was created to provide operating and capital assistance for transit agencies to reduce greenhouse gas emissions and improve mobility, with a priority on serving disadvantaged communities. Approved projects will support new or expanded bus or rail services, or expanded intermodal transit facilities. They may also include equipment acquisition, fueling and maintenance and other costs to operate these services or facilities, with each project reducing greenhouse gas emissions.