Innovation Lab To Close In August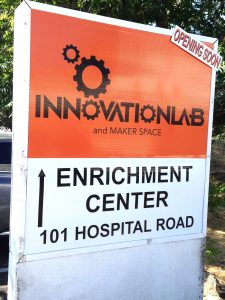 Innovation Lab

View Photos
Sonora, CA — The space used as an Innovation Lab at the former Tuolumne General Hospital will soon become county office space.
The Tuolumne County Economic Development Authority has used the third floor of the TGH campus over the past four years as an Innovation Lab. TCEDA Director Larry Cope says it has helped spur community partnerships with local schools, entrepreneurs and non-profits.
He notes the space has hosted school STEM competitions for students…and pitch events/competitions for adults. It has also provided 3-D printers, technology kits and stem supplies for local schools.
Cope says releasing the space for other uses will allow for budgetary cost savings in the county. Deputy County Administrator Daniel Richardson tells Clarke Broadcasting it will now be used for office space, and will allow the county to stop leasing some other sites.
Cope adds, "Despite this being the end of the Innovation Lab as we currently know it, the TCEDA will continue to work on innovation within our community through partnerships with local schools, entrepreneurs, non-profits and other local and regional co-working spaces. Starting in August of 2018 the TCEDA will begin a robot "loan out" program that will loan out our newest and most advanced "programable" robot to local schools on a first come, first serve basis. The TCEDA will continue their AT&T, PG&E and EPCTC technology grants to local schools and nonprofits through their sister agency, the Economic Prosperity Council of Tuolumne County (EPCTC)."