Cause Determined Of Largest Fire This Summer In California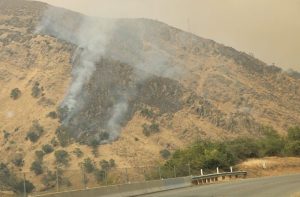 Mopping up the County Fire

View Photos
CAL Fire officials know what ignited the 90,200 acre County Fire that has been burning over the past couple of weeks in Napa and Yolo counties.
Officials say it was caused by "an improperly installed electric livestock fence unit." CAL Fire reports that the responsible person, whose name has not been released, has been given a citation. The County Fire started in the community of Guinda on June 30 and is nearly 90-percent contained. 20 structures have been destroyed. During the early days of the blaze it was putting out heavy smoke that drifted across Northern California, including here in the Mother Lode.
CAL Fire is urging everyone to always follow proper installation and operating guidelines in manuals when installing or operating any equipment that can cause a wildland fire.