Calaveras County Grand Jury Releases New Report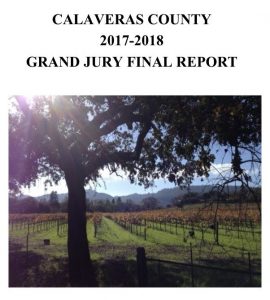 Calaveras County Grand Jury Report

View Photos
San Andreas, CA — The citizen Grand Jury has put out a new 88-page document reviewing the operations of local government.
This year the 19-member jury reviewed Animal Control Services, the county jail, the Vallecito Conservation Camp, residency requirements of the board of supervisors, the 2016 Measure E election and the county's high school districts.
For some items, the jury made recommendations, while others need no action.
For example, it found that Animal Control Services is underfunded, a new facility is needed, and a dog licensing enforcement program should be established.
While the jury had very positive things to say about the new jail, it recommends the county increase wages, hire additional people, and reduce the $265,000 overtime budget.
You can find the entire report here.