New Fire Ban In Section Of Forest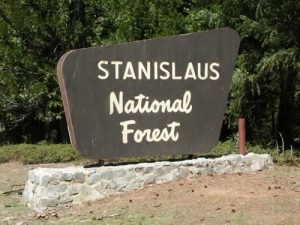 Stanislaus National Forest

View Photos
Sonora, CA — Forget building a camp fire in the Moore Creek area of Stanislaus National Forest in Calaveras County – those who break the rules could face fines and even jail time.
The Moore Creek Fire Restriction Area begins at the western boundary of the Mokelumne Wilderness at Salt Springs Reservoir and runs along the North Fork Mokelumne River. Fire restrictions are in effect until the end of the official 2018 fire season due to the increased threat to public safety and property, according to forest officials. They add that the ban will also minimize fire damage by reducing the risk of human sparked fires on the forest.
The restrictions prohibit: building, maintaining, attending or using a fire, campfire or stove fire. Smoking is also restricted, except in these specific areas: an enclosed vehicle or building and while stopped in an area that is barren or cleared of all flammable material with at least a three-foot diameter. Welding, or using a torch with an open flame is also restricted.
Forest officials warn that anyone violating the ban could face a fine of not more than $5,000.00 for an individual or $10,000.00 for an organization or up to six months behind bars, or both.