Sonora Purse Snatcher Being Sought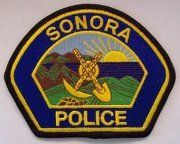 Sonora Police Seal

View Photos
Sonora, CA – A woman who had left the Mother Lode Fairgrounds Saturday night tells police of her scary ordeal trying to fight off a purse snatcher.
The woman relayed that she was leaving the Mother Lode Fairgrounds around 10 p.m. this past Saturday. While walking through the Stockton Road parking lot, she was suddenly attacked from behind by a man grabbing at her purse. As she clutched her purse, the man demanded the bag and reportedly punched her in the face. She struck him back, but he hit her again and made off with her purse. The woman suffered minor injuries to her face.
The victim was able to give police a description of her attacker. He is a tall, white, male adult with a slender build and was wearing a dark-colored hooded sweatshirt. She also noted that the suspect spoke with a raspy voice.
Sonora police report that they are treating this incident as a felony crime and are asking for the public's help to catch the thief. Anyone with any information regarding this crime is asked to call the Sonora Police Department at 209-532-8141.