Sheriff DiBasilio Administers Oath To New Volunteer Unit Members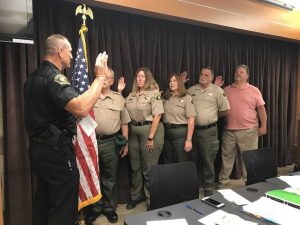 Sheriff Dibasilio administers oath to Terry Bullock, Kathy Martin, Jan Jakubek, Bob Barron and Jim Currier

View Photos
San Andreas, CA — Five new members of the Calaveras County Sheriff's Volunteer Unit were administered the oath of office.
Sheriff Rick Dibasilio officially welcomed Terry Bullock, Kathy Martin, Jan Jakubek, Bob Barron  and Jim Currier. The volunteer unit is a group who supports the sheriff's office by working the county substations, doing patrols, assisting at special events, and tackling many of the routine tasks that help free up paid deputies. You'll see them actively volunteering at parades, the county fair and helping with traffic control and crowd safety. The volunteers also take some of the paperwork burden off of the sheriff's department.
Anyone interested in becoming a member of the volunteer unit can stop by the sheriff's office in San Andreas to pick up an application, or drop by any of the substations located around the county. You can also call 209-754-6500.