Calaveras Supervisors To Hear Update On Disaster Recovery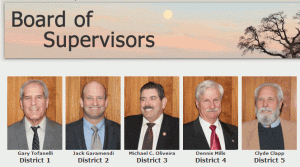 Calaveras County Board of Supervisors

View Photos
San Andreas, CA — Calaveras County has dealt with multiple natural disasters over the past few years.
During Tuesday's upcoming meeting, the board of supervisors will hear an update from the county's office of emergency services regarding the Butte Fire of 2015, winter storms of 2017 and the tree mortality epidemic. The Butte Fire burned over 70,000 acres and 800 structures. It also resulted in two fatalities. The 2017 storms resulted in Governor Jerry Brown declaring a state of emergency, and included the destruction of a bridge in the Arnold area along Murphys Drive.
In addition, the county will have a discussion on the appointment of applicants to serve on various committees and advisory boards. Tuesday's meeting will begin at 9am in the supervisors meeting room at the government center in San Andreas.