SAF Donates To New Shower Bus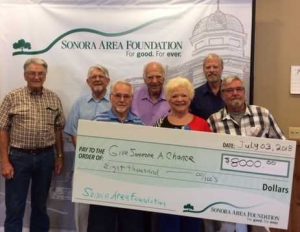 Give Someone A Chance Receives Donation

View Photos
Sonora, CA — The local non-profit group Give Someone A Chance (GSAC) has received an $8,000 grant to support their soon to be operational shower bus.
We reported earlier that the organization held a ribbon cutting for the bus this past fall. Supporters estimate it will cost between $75,000-$100,000 to operate the portable bus annually, with the goal of providing 5,000-6,000 showers per year. It is designed to help meet a need of the growing number of homeless residents in Tuolumne County.
GSAC requested the $8,000 award from the Sonora Area Foundation specifically to benefit minors, ages 18 and under, who need the shower service.
SAF Executive Director Darrell Slocum says the board of directors was impressed with the GSAC application and appreciative of the services they provide to the community.