Update: Angels Camp Vegetation Fire Caused By Illegal Fireworks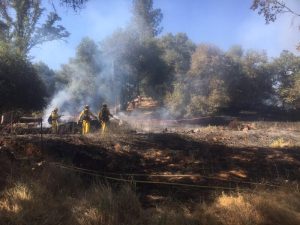 Firefighters work Finnegan Fire in Angels Camp caused by illegal firework July 3 2018

View Photos
Update at 5:45pm: A juvenile breaking the law is responsible for sparking the three-quarter-acre Finnegan Fire that sparked in Angels Camp just before 4 p.m.
CAL Fire spokesperson Emily Kilgore shares, "CAL Fire issued the juvenile a citation for using dangerous fireworks and causing the fire — and hopefully this hard life lesson is learned and not repeated."
With the Fourth of July holiday here she emphasizes, "CAL Fire would like to remind everybody that, while Safe and Sane labeled fireworks are legal in parts of Calaveras County, it is never okay to use dangerous fireworks that shoot things into the air — and it is never okay to use any kind of fireworks in dry grass or dry vegetation."
The juvenile in this case received two citations, according to Kilgore. While these begin in the hundreds of dollars, the costs go up if those responsible are charged for firefighters' response costs.
Update at 4:15pm: CAL fire spokesperson Emily Kilgore says that forward progress has been abruptly halted on a three-quarter acre fire in the vicinity of the Finnigan Lane swimming hole. Units remain on scene to continue mop up.
Investigators are on scene. No word yet on whether the fire was human-caused or not although law enforcement has been called to respond.
Original Post at 4:05pm: San Andreas, CA — If you hear aircraft, Columbia air resources are among multiple responders to a reported vegetation fire in Angels Camp off Highway 49.
CAL Fire reports that the blaze is in the vicinity of Finnigan Lane by the Finnigan Swimming Hole across from Gold Cliff Road. The area is located between Greenhorn Creek and Highway 49.
The incident was called in around 3:55 p.m. According to CAL Fire spokesperson Emily Kilgore, units on scene are describing it as three-quarters of an acre in size. No other details, including if any structures are under threat, are available yet. We will provide more details as they come into the news center.