CHP, Travel Officials Share July 4th Motorist Alerts, Tips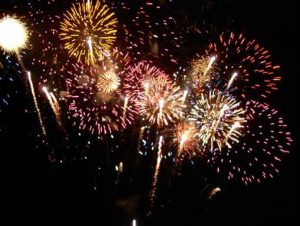 Lake Don Pedro Firework (file photo)s

View Photos
Sonora, CA — With the nation's birthday falling in the midweek law enforcement and travel officials are advising motorists to be extra cautious.
This year the CHP's holiday Maximum Enforcement Period (MEP) begins tonight at 6 o'clock and extends through Wednesday, July 4 at midnight, according to CHP San Andreas Unit spokesperson Sgt. Jennifer Hannum. "We will be looking for DUI drivers and also making sure that we are keeping the roadways safe, so we will have additional patrol officers out on the road, enforcing the traffic laws." She shares that distracted drivers and speeders should take special note that they will be on officers' radars.
With the holiday falling as it is, Hannum states not only are there holiday revelers and summer vacationers on the roadways but commuters as well, creating the potential for more traffic incidents. Since it is the nation's birthday she adds, "There tends to be a lot of alcohol and given that marijuana has become legal for use we are dealing with another element of combination use…it is all DUI, no matter how you look at it," she warns. During last year's Fourth of July MEP, which spanned four days, the CHP arrested 1,244 motorists on suspicion of DUI statewide, compared to 1,144 in the 2016 campaign. There were also 47 people killed in CHP involved collision responses.
AAA Tips, Tipsy Tow
"Increased traffic combined with celebrations that commonly involve alcohol makes the Fourth of July one of the most dangerous days on the road of the year," comments Michael Blasky, AAA Northern California spokesperson. Since the majority of Americans and Californians both will be driving to their Independence Day destinations, he recommends avoiding peak commute times such as late afternoon and early evening if possible. The also suggests designating a passenger, if you have one, to navigate and respond to calls and texts.
Speaking of designations, Blasky recommends those who find themselves without a sober driver to tap AAA's holiday Tipsy Tow service, which runs between 6 p.m. July 4 and 6 a.m. Thursday, July 5. To use the service, drivers, passengers, party hosts, bartenders and/or restaurant and resort managers should all 1-800-AAA-HELP (1-800-222-4357) during the service period and state that they need a Tipsy Tow. He says the service is free for all drivers, not just AAA members, and includes up to ten miles of towing for a driver, one passenger and their vehicle. However any additional miles are subject to a standard towing rate; reservations in advance are not accepted; the service excludes roadside assistance.
AAA estimates that due to consumer confidence and more disposable income, even with gas prices on the rise, Americans across the nation are expected to hit the road in record numbers with 47 million people traveling 50 miles or more as they seek out Fourth of July celebrations. Of these nearly 40 million will be doing at least some of their traveling on Independence Day –- an uptick of more than five percent over the year. Speaking of fueling up, local gas prices per gallon of regular unleaded are currently running between $3.25 and $3.68 in Sonora and $3.44 and $3.55 in San Andreas.