No Transient Occupancy Tax Increase On November Ballot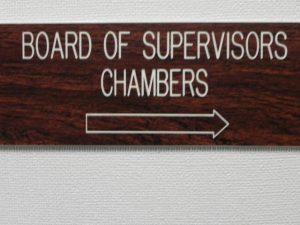 Tuolumne County Board of Supervisors Sign

View Photos
Sonora, CA — After hearing opposition from many leaders in the hospitality industry, the Tuolumne County Supervisors decided against placing an increase of the Transient Occupancy Tax on the November ballot.
The supervisors were considering asking voters to increase the current 10-percent tax paid by patrons of hotels and other lodging to 12-percent. The board was also considering adding campgrounds and RV parks to the list that pays the tax.
At today's board meeting around 10 people came up to the podium and voiced strong opposition. They included business leaders like Frank and Sally Helm who own Dodge Ridge and Matt Bloom who owns Kennedy Meadows. Tuolumne County Visitor's Bureau Executive Director Lisa Mayo added that she has been seeking out opinions from the lodging industry over past weeks, and stated, "I have not been able to find anyone who is really for this at this time."
District Five Supervisor Karl Rodefer stated the proposal was not thoroughly planned out, and added that residents already have "tax fatigue." District Two Supervisor Randy Hanvelt concurred with Rodefer's statements, and said the county, "needs to do a lot more homework." District One Supervisor Sherri Brennan emphasized that the county should still have a conversation regarding the TOT, notably about expanding it to campgrounds and RV parks. She stated the Forest Service has only three law enforcement officers in the region and many times visitors to the Stanislaus National Forest require services paid for by the county.
The supervisors voted 4-0, with Evan Royce absent, to postpone action until further notice regarding the TOT. In addition, a committee will be formed to look at the issue later this year, after the November election. It will likely include members of the board, county staff and the public.
It was noted in the meeting documents that increasing the TOT by 2-percent would generate around $1.3-million per year and expanding it to camping and RV parks would bring in another $333,000 per year.