Garaventa Is Sonora's New Mayor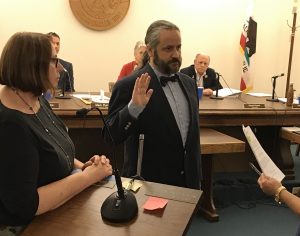 New Sonora Mayor Jim Garaventa Takes Oath Of Office
Sonora, CA — After serving the past two years as Vice Mayor, Sonora City Council member Jim Garaventa was unanimously picked to step into the role of Mayor.
Mayors serve a two year period in Sonora, so Garaventa will remain in the position through July of 2020. Immediately after, he appointed Matt Hawkins as Vice Mayor. At tonight's meeting at city hall, Garaventa and Colette Such also were given the ceremonial oath of office, as they were the top vote-getters in the June primary election. Click on the video box for Such's swearing in.
The council then bid farewell to member George Segarini. He noted that it is "amazing how time flies," as it seems like yesterday when he took his oath of office in 2014. He said there comes a time when your body and mind can no longer give 100-percent to the job, but he still plans to stay active in the community and with his son's restaurant in Columbia.
The council later voted 5-0 to authorize City Administrator Tim Miller to sign a Letter of Intent to partner with the Tuolumne County Transportation Council to submit a grant application for state funding to further develop safety improvements for the downtown district. There was a mix of pros and cons voiced by members of the audience. A conceptual plan has been under review over the past several months and it includes a mix of bulb outs, lighted cross walks, etc. The first critic to speak, Elena Linehan, referred to it as a "face tattoo for the city," and something that is permanent and will be regretted down the line. Community member Sharon Marovich expressed concerns that the plan could take away from the historic character and asked that if bulb outs be included that they incorporate trees along the streets, similar to what was in place in the 1920's. Other council members also expressed a similar desire to maintain and preserve the historic character of the city. In addition, there were concerns raised about losing parking spaces. It is estimated that a few parking spots could go away under the current conceptual plan. If state funding is awarded, the city would have the ability to alter the plan to a more preferred final design, and this point was emphasized by council members. The application for state funding will be submitted by the end of the month and the city should hear in the fall if funding is coming to the community.