Highway 49 Reconstruction Should Finish By Aug. 1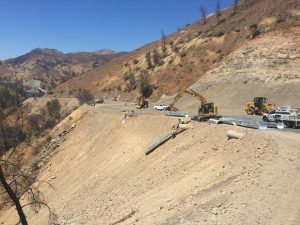 Hwy 49 repairs between Bear Valley Road and Hwy 132 Mariposa June 29 2018

View Photos
Sonora, CA – Motorists bummed out by a nearly hour-long detour due to a section of Highway 49 wiped out by late March's atmospheric river weather storm event may find cheer in a bit of good news.
Caltrans officials are now estimating that the 15-mile stretch between Bear Valley Road and Highway 132 in Mariposa should re-open by Wednesday, Aug. 1.
Sure, it means travel delays are likely to continue through the end of July, unless Caltrans is able to deliver on one of its customer-conscious aims: to under-promise and over-deliver.
However, it is heartening that the agency is actually providing an actual reopening date, which it declined from doing last month, as reported here.
Since the storm caused a complete washout and severe erosion of both the highway and shoulders, crews had to rebuild the road foundation and slopes from the ground up. They also worked to replace the devastated drainage system with new metal pipes and backfill around them with concrete. Once these chores are complete, paving and striping will get underway.
To view Caltrans images of the work taken just before the weekend, click into the image box slideshow.