Stanislaus National Forest Leader Encourages Fire Safety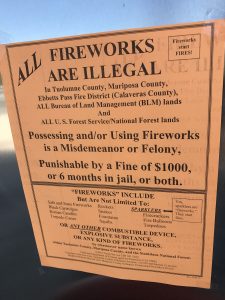 Signs About Fireworks Posted Around Tuolumne County

View Photos
Sonora, CA — The next week is expected to be very busy in the Stanislaus National Forest surrounding the Independence Day holiday.
With many planning to go camping over the next couple of weekends, Forest Supervisor Jason Kuiken tells Clarke Broadcasting, "As we enter the end of June, and early July, people are excited to celebrate the upcoming holiday and all of the family traditions. Please be safe with your campfires out on the landscape. It has been several months since we've had any rain within the Stanislaus. We've had high ninety degree temperatures, so things are drying out."
He adds, "Also, refrain from using any fireworks. Go to any municipality that may have fireworks where they put them on themselves, but refrain from using any on the national forest and surrounding areas. They can cause many issues and can really impact the environment, and people's homes, for years to come."
Fireworks are completely banned on all federal lands, such as the Stanislaus National Forest and Yosemite National Park, all of Tuolumne County and many areas of Calaveras County.
(You can click on the photo box to view one of the signs being displayed across the region at various locations stating information about rules and fines for illegal use of fireworks. The signs are being distributed by CAL Fire)