GOP Leader Calls For Special Committee On Wildfire Issues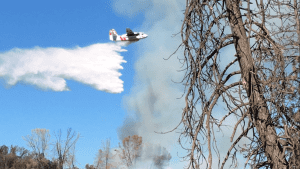 Firefighting Activity

View Photos
Sacramento, CA — The top Republican leader of the California Assembly is asking lawmakers to convene a conference committee focused on wildfire safety, insurance, utilities and liability.
Assemblyman Brian Dahle says, "Last year, thousands of Californians faced the loss of their homes and dozens lost their lives in the worst wildfire season on record. The legislative session is running out and we have complicated issues that need thorough, bi-partisan hearings."
Earlier this year Dahle asked that Governor Jerry Brown convene a special session focused on these related issues, and is now asking Senate President Pro Tempore Toni Atkins and Assembly Speaker Anthony Rendon to form the conference committee.
Dahle adds, "If the issues of wildfire safety, insurance liability and utility accountability are not handled properly, the results could be catastrophic. We need a solution that is comprehensive and well thought out."
Dahle's district includes a big stretch of the northern Sierra Nevada, including parts of counties like Placer, Nevada, Siskiyou and Modoc.