Sonora Will Pick Mayor: Such And Garaventa To Take Oath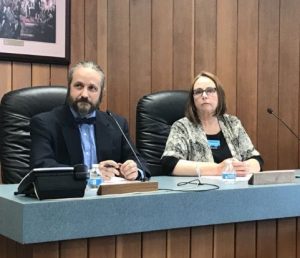 Jim Garaventa and Colette Such

View Photos
Sonora, CA — Now that the election results have been finalized in Tuolumne County, the City of Sonora will give the oath of office to the June council winners, and pick a Mayor for the next two years.
Colette Such was the top-vote-getter in the June primary, receiving 38-percent. Jim Garaventa, an incumbent, was second, with 32-percent. They defeated challengers David Axelrod with 15-percent and Kurt Bryant with 12-percent. Such and Garaventa will officially take the oath of office during Monday's meeting at 5pm at Sonora City Hall. The council will also give special recognition to George Segarini, who declined to seek re-election after four years in office.
The new council will then have the task of selecting a new Mayor. Connie Williams has been serving in the role over the past two years, and Jim Garaventa is the current Vice-Mayor, which makes him the likely selection. After the new Mayor is picked, the next action will be to confirm a Vice Mayor.
Prior to the 5pm open session, the council will also meet in closed session at 4pm. The council will discuss the hiring of a new Administrative Services Director during that time, and review the lawsuit filed by Kenneth Perkins, related to transparency, against the Tuolumne County Economic Development Authority and its director Larry Cope.