TUD Releases Water Quality Report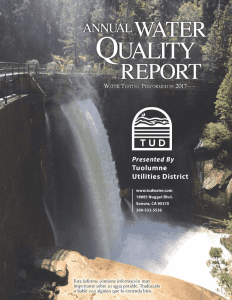 TUD Water Quality Report 2017 Cover Image

View Photos
Tuolumne City, CA — Tuolumne Utilities District (TUD) has
released and posted online its annual water quality report.
Also known as its consumer confidence report, it is required by law and covers all testing of treated drinking water performed from Jan. 1 through Dec. 31, 2017. The report includes TUD's 11 water service areas, which include 11 surface water treatment plants and 12 active wells. The TUD report can be accessed here.
TUD's surface water comes from the South Fork of the Stanislaus River at Lyons Reservoir via the Tuolumne Main Canal by agreement with Pacific Gas and Electric Company (PG&E). PG&E owns and operates Pinecrest Lake, Lyons Reservoir, and the Tuolumne Main Canal.
TUD officials estimate that approximately 96 percent of the district's annual water needs are met with surface water from Lyons Reservoir and Pinecrest Lake and the remaining with ground water, either as a primary source or a backup.
In releasing its annual report, which it makes available online for downloading as a cost-savings measure, TUD officials note that as new challenges to drinking water treatment and delivery emerge, the district remains committed to meeting the goals of source water protection, water conservation, treatment process improvements, employee training and community education to serve the needs of all its water users.