Big Trees Attraction Gets A Facelift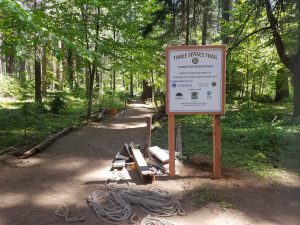 Calaveras Big Trees

View Photos
Arnold, CA – A month-long restoration at Calaveras Big Trees State Park of a 42-year-old attraction often referred to as "The Braille Trail" is nearing completion.
Today, California State Parks shares that rehabilitation underway since early June of the Three Senses Trail is on track so that it will be able to reopen in early July. The planned work on the pathway, created back in 1976 to serve the blind and visually impaired, is all part of a partnership undertaking with the Arnold Lions Club and Calaveras Big Trees Association.
Scope includes widening the trail and strengthening fill base materials; adding new benches, viewing platforms and interpretive signs along with revising the trail guide.
More Add-ons, Finishing Touches Planned
Officials add that new interpretation stations will be in by September and the completion of the "Touching Garden" in early 2019 will cap the project. Also planned next year are guided trail tours. Planners anticipate the improvements to physical and informational access will benefit all people with disabilities.
The Lions Clubs International Foundation, District 4-A1 Lions Club, Calaveras Community Foundation and Sierra Pacific Industries have provided key funding along with contributions from friends and supporters of Calaveras Big Trees State Park.
"This project was a natural fit for both the park and the Lions. Being involved in both organizations, it fell into my lap with perfect timing to be considered a Lions legacy project," explains Rod Smith, Project Coordinator and Calaveras Big Trees Association President.
Earlier this month, Smith received one of 13 Lions International Presidential Awards for Centennial Community Legacy Projects awarded in the U.S. this year in recognition of the Three Senses Trail Rehabilitation and Upgrade Project.