Fireworks Spark Grass Fire In Calaveras County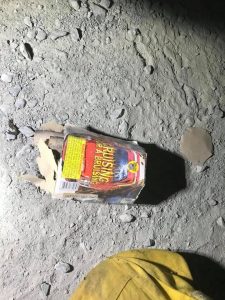 Fireworks found at the scene

View Photos
Rancho Calaveras, CA — With the 4th of July holiday just around the corner; CAL Fire reminds the public of fireworks dangers after responding to multiple fires in the New Hogan Lake area of Calaveras County determined to be sparked by the firecrackers.
CAL Fire spokesperson Emily Kilgore cautions, "The vegetation is dry and the weather that is predicted over the next week or so is going to be dry and hot as well so, were going to continue to see that pattern. Due diligence to fire safety is going to be critical this time of year."
The fires sparked late Tuesday evening were burning in dry grass near Silver Rapids and Hogan Dam roads, between Rancho Calaveras and Valley Springs. All the fires were contained at a quarter acre or less. Due to evidence of fireworks found near the flames, as can be seen in the pictures in the image box, CAL Fire investigators determined the cause of the fires to be from "dangerous fireworks."
Kilgore reminds the public regarding personal use that so called "Safe and Sane Fireworks" are allowed in Calaveras County except in the Ebbetts Pass Fire District where all are illegal. Tuolumne County also bans all firecracker use. Kilgore outlines, "It can be a misdemeanor or a felony that carries a fine of $1,000 or six months in jail or both if caught having fireworks." She adds that includes on all federal lands, which is the case of these latest fires." Kilgore notes that these rules do not apply to permitted fireworks events like at Ironstone Vineyards in Calaveras County and Lake Don Pedro in Tuolumne County. CAL Fire asks the public to report illegal firework to law enforcement.
Of note, fireworks that sparked the 2016 Tulloch Fire and burned 82 acres in Tuolumne County off of Lake Tulloch, cost the perpetrator $269,352.34 after a settlement was reached this year with CAL Fire through its Civil Cost Recovery Program.
Click here for details on more CAL Fire fireworks related information.