Brown Officially Makes Moke River 'Wild And Scenic'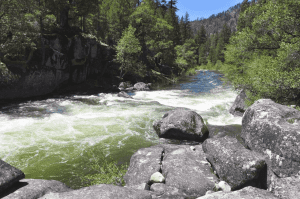 Upper Mokelumne River

View Photos
Sacramento, CA – With another flourish on a busy day for Governor Jerry Brown and his pen, he officially designated 37 miles of the Mokelumne River as "wild and scenic."
The segment, which is the North Fork and main stem that runs through Amador and Calavera counties, is the twelfth such designated river.
Brown's signature on SB 854 finalizes the legislation passed by the State Assembly and Senate on June 14. According to Calaveras County Water District (CCWD) officials, the bill's language integrated recommendations made by the California Natural Resources Agency's
Mokelumne River Wild and Scenic River Study Report that came out this past April.
It includes five special provisions to protect local water supplies supported by a coalition of stakeholders representing various interests: river conservation, fish, recreation, tourism and water agencies; also PG&E, which operates a hydroelectric project on the river.
CCWD President Scott Ratterman dubs the outcome as a significant achievement. He states, "We are proud to have reached a consensus with all stakeholders that protects local water rights and the river for future generations."
Jackson-based Foothill Conservancy Board President Katherine Evatt adds, "It's a tremendous day for our community. People really love the Mokelumne. We have worked for decades to ensure that this beautiful river is protected for generations to come."
It is noted that power uses and operations will not be affected by the designation, which bars new onstream dams on the five designated river segments.