Women Arrested After Intentional Two-Vehicle Crash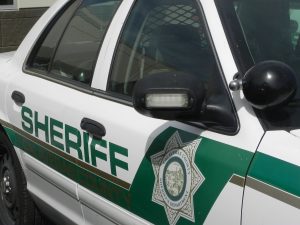 Calaveras County Sheriff

View Photos
San Andreas, CA — Two women, following a potentially lethal game of bumper cars, face charges of assault with a deadly weapon.
Calaveras County Sheriff's spokesperson Sgt. Rachelle Whiting recounts that in the wee hours yesterday deputies responded to the area of Highway 26 and Ponderosa Way to investigate a report of an altercation. Upon their arrival they encountered and interviewed 35-year-old Jessica England of Mokelumne Hill who was walking on Ponderosa Way.
England stated that she had been in an altercation during which her vehicle was shot at and then pushed over an embankment, according to Sgt. Whiting, who adds that deputies subsequently contacted and detained several subjects at a makeshift camp site located a few hundred yards from Highway 26 down the same road.
Whiting says that after lengthy questioning with the subjects, who she describes as intoxicated and unwilling witnesses, deputies determined that England had intentionally driven her vehicle into one belonging to another woman, 24-year-old Ashley Sturman, also of Mokelumne Hill, and that Sturman responded by driving into England's vehicle several times.
Based on statements taken, deputies believed that England drove her vehicle over the embankment rather than it being pushed, although empty shell casings as well as live .45 caliber rounds were located, supporting her claim that her vehicle had been shot at. Whiting states however that no firearm was located and there were no bullet holes located on the vehicle. Both women were arrested and booked into Calaveras County Jail.