Early Morning Fire In Jamestown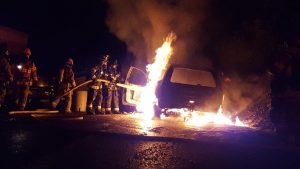 Vehicle Fire in Jamestown

View Photos
Jamestown, CA — An early morning scare for some Jamestown residents as they were awoken by the sound of crackling flames and sirens.
CAL Fire reports a fire broke out in the Peppermint Creek Mobile Home Park on the 10100 block of Peppermint Place. CAL Fire spokesperson Emily Kilgore detrails, "A vehicle was on fire and it did ignite a small spot of vegetation. Firefighters worked aggressively and were able to contain the fire at 4:52 this morning."
The blaze began around 4:30 a.m. Kilgore says the fire is under investigation.