Flat and Horse Fires Updates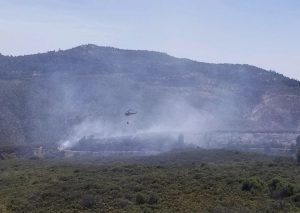 Progress Battling Flat Fire

View Photos
Moccasin, CA — Crews continue to work towards full containment on two blazes that forced residents from their homes during the past weekend's heat wave.
The blazes have scorched a total of 240 acres, so far. The Flat Fire burning in the Moccasin area of Tuolumne County broke out just before 1 p.m. on Saturday. Its containment has grown from 65-percent yesterday to 70-percent today (Tuesday). Crews have been able to hold the acreage at 163 acres. Firefighters are up against rough terrain and sizzling temperatures as they continue to battle the remaining flames.
The Horse Fire burning along Stagecoach Drive near Horseshoe Road in the Copperopolis area in Calaveras County remains unchanged from yesterday at 80 acres and 95-percent containment. The blaze broke out around 3:30 p.m. on Saturday. CAL Fire initially reported the flames were moving at a "dangerous rate of spread" before crews were able to stop the forward spread about an hour and a half later.
CAL Fire spokesperson Lindy Shoff relays to Clarke Broadcasting that investigators are still trying to determine what sparked each of the fires.