Glorious 4th Of July Celebration Next Week In Columbia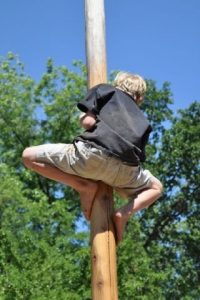 Glorious Fourth of July Celebration in Columbia (Greased Pole Climb)

View Photos
Celebrate our nation's birthday the old-fashioned way in the town of Columbia, one week from today.
Gary Nuebert and Mike Keene, with the Columbia Chamber of Commerce Board of Directors, were both Wednesday's KVML "Newsmakers of the Day".
"The constant question we get is 'When is the 4th of July Celebration in Columbia," stated Keene. "I answer 'It's always on the fourth of July."
The Glorious 4th of July Celebration is a chance for the public to participate in the many activities that the 49ers enjoyed way back when, including a glorious parade up Main Street at noon. Folks in Columbia began the 4th of July parade tradition in 1852. There is no record of any skipped year.
After the parade, try your skill at the many contests popular in the early days of Columbia. The kids will enjoy trying to climb the greased pole, and participating in the bucket brigade and the cake walk. Other contests for kids of all ages include nail pounding, watermelon and pie eating, egg relay race and egg toss and a five-way tug-of-war.
The parade is free.
A pulled pork barbecue will be served at 1 pm at Burns Cottage Garden. Barbecue tickets are $10 for adults and $6 for children under 10.
Come early for the best parking and bring lawn chairs. The festivities will begin with a ceremonial flag raising and black powder musket salute at 11 am.
Agenda of Activities:
Flag Raising and Black Powder Musket Salute: 11:00AM by the Columbia Militia near the gazebo.
Needle in the Haystack in front of the Livery Stable.
Parade at Noon. Registration begins at 10:30AM in front of Fallon Hotel. Line up at 11:45AM sharp.
Procession Begins at 12:00 noon in front of the Fallon Hotel. Awards presentation will occur at 1:30PM at the judges' stand.
Watermelon Eating Contest Main Street. In front of the Columbia House.
Bucket brigade Behind the Livery Stable.
Nail Pounding Contest at the BlackSmith Shop.
Greased Pole Contest. Between the Mercantile & Firehouse.
Egg Relay. Main Street.
Egg Toss at State & Main Streets.
Cake Walk at the Fallon House Garden.
Five Way Tug-o-War behind the bank, across from Eagle Cottage.
the Glorious 4th of July Celebration is sponsored by the Columbia Chamber of Commerce. For more information call 209-536-1672.
The "Newsmaker of the Day" is heard every weekday morning at 6:45, 7:45 and 8:45 on AM 1450 and FM 102.7 KVML.