Gas Tax Repeal Headed To Ballot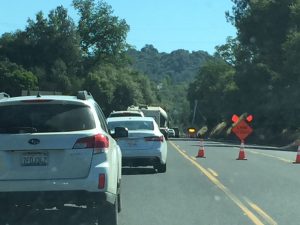 Roadwork

View Photos
Sacramento, CA — California voters will be asked in November whether to repeal the legislation that increased the gas tax and other fees last year.
Senate Bill 1 was hailed as a way to put a dent in the $67-billion backlog in highway, road and bridge repairs needed in California. It notably increased the state's gas tax by 12-cents per gallon and diesel tax by 20-cents per gallon.
Soon after the Secretary of State's Office announced that it had qualified for the General Election ballot, Governor Jerry Brown put out a statement, saying, "I will do everything in my power to defeat any repeal effort."
With a different opinion is Republican candidate for Governor John Cox, who supports the repeal. He states, "This is a message to the millions of forgotten Californians ignored by the Sacramento political elite, help is on the way." The repeal is also endorsed by groups like the Howard Jarvis Taxpayers Association.
Upon its passage, proponents noted that Senate Bill 1 would generate $54-billion over the next decade.