City Of Sonora Approves New Budget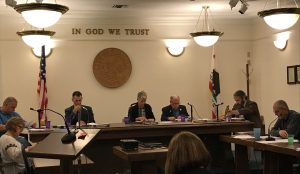 Sonora City Council Meeting

View Photos
Sonora, CA — The Sonora City Council voted 5-0 to approve a $5.5-million general fund budget for fiscal year 2018-19, including a last minute addition.
At tonight's meeting the council members decided to add "up to $30,000" to fund a part-time school resource officer (SRO) within the police department. It is a position that was included during the past fiscal year budget thanks to grant funding which has now expired. The council members noted they will explore two potential grant opportunities over the coming months to cover the cost of a school resource officer, but with no funding immediately in place, they wanted to ensure that it is something that will continue regardless. The extra money will come out of the roughly $2-million in city reserves. All of the council members were supportive of adding the funding, however, member Mark Plummer did voice concerns about dipping into the reserves to fund a position for which money may not be available again next year.
Before the budget vote, Mayor Connie Williams also noted that she received correspondences from four community members ahead of tonight's meeting, and she wanted it noted for the official record. Former council member Jim Hildreth, Dr. James Mosson and Diana Cooper had all expressed concerns related to the city paying $102,000 towards the Tuolumne County Economic Development Authority (TCEDA). In addition, Austin Lunde sent a letter requesting more budget allocation for the Sonora Fire Department.
The full funding for the TCEDA was included in the new budget. Council member George Segarini offered high praise for the TCEDA and its Executive Director Larry Cope. Mayor Williams, however, noted that she feels the city should evaluate over the next year whether it is getting what it needs in return for the $102,000 investment. The TCEDA is a joint powers agreement with Tuolumne County, of which the latter pays around $340,000.
The new spending plan for the City of Sonora takes effect on July 1st.