Local Man Prevents Ditch Drowning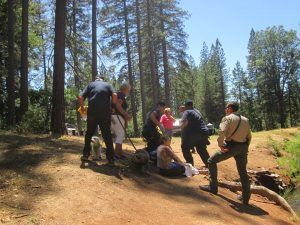 Twain Harte Ditch rescue June 20 2018

View Photos
Sonora, CA — Tuolumne County sheriff's officials have high kudos for a local resident whose heroic efforts undoubtedly saved a woman's life.
Sheriff's spokesperson Sgt. Andrea Benson says local resident Tom Gerbing happened to be in the right place at the right time Tuesday near a Twain Harte Ditch hiking and biking trail when he heard yells for help coming from nearby. She says they came from a friend accompanying a visitor to the area who had been walking her dog when she slipped and fell into the water.
"A call for help came into our Communications Center for a 74-year-old woman who was unresponsive in the water at the Twain Harte Ditch," Benson recounts. "Tom immediately ran into water, turned over the unconscious woman, began mouth to mouth resuscitation and was able to help the woman's friend pull her onto the bank and then he continued to care for her until she started to breathe on her own."
Even as fire personnel, medics and deputies arrived, Benson says Gerbing remained on scene until the woman was taken by ambulance to Adventist Health Sonora, where she was later reported as doing well.
Stating that her office thanks Gerbing for his courage and kindness, Benson emphasizes, "Tom responding to the aid of someone in need with no regard for his own safety was instrumental…people like you make Tuolumne County a special place to live and serve."