Citation Issued For Jenny Lind Vegetation Fire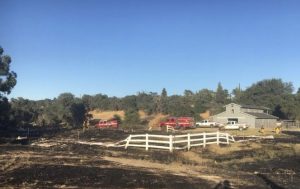 Jenny Lind Vegetation Fire

View Photos
Jenny Lind, CA  — CAL Fire has determined what ignited a 1.4 acre fire last night in the 5500 block of Pleasant Oaks Drive in Calaveras County.
Spokesperson Emily Kilgore says the initial call came into dispatch shortly after 6pm about the fire in the community of Jenny Lind. She adds, "Investigators determined that the fire was caused by equipment use that had a spark arrestor issue. A citation was issued to the user of the equipment and we remind everybody that all internal combustion engines, or gas powered equipment, is required to have a spark arrestor when operated in wildland interface areas."
Kilgore did not have any additional information regarding the specific type of equipment the person cited was using. CAL Fire officials are urging extreme caution when using equipment outdoors this time of year. Today is the official first day of summer and triple digit temperatures are a possibility by this coming weekend.
Click here to read a story about the incoming weather system.