Excessive Heat And High Fire Weather Danger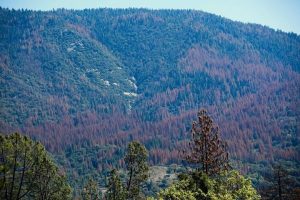 Aerial view of dead trees in the Pacific Northwest Region (California)

View Photos
A rapid warming and drying trend is in store this week with high pressure building over both the Mother Lode and the Sierra Nevada.
Excessive heat and high fire weather danger is forecast from Friday through the weekend, with Saturday being the hottest day.
The combination of dry conditions and gusty north winds will lead to the high fire weather danger with easier fire starts and rapid spread.
Temperatures in the Northern San Joaquin Valley will range from 100 to 106 degrees.
Impacts will include a high heat risk to the general population and especially to sensitive groups including both the elderly and children.
There is also the potential for heat related illness to humans, pets and livestock with long outdoor exposure.
North wind gusts will range from twenty to thirty mph. The strongest winds are expected both Saturday and Sunday.
The relative humidity is anticipated to be ten percent or lower.