Neighbor Helps Deputies Catch Home Burglar With Goods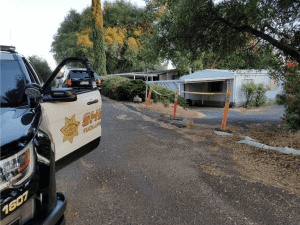 Deshon Mansfield Arrest June 17 2018

View Photos
Sonora, CA — Sheriff's officials are crediting an alert neighbor with helping nab a burglar.
According to Tuolumne County Sheriff's spokesperson Sgt. Andrea Benson, last night deputies responded to the Cascade Mobile Home Park on 18330 Wards Ferry Road in Sonora for a report of a burglary in progress.
The neighbor called in a report to dispatch that a dark-skinned man wearing a black hat, red shirt and black hooded sweatshirt was breaking into a nearby home. Arriving deputies spied and stopped a man matching the description, who was carrying several items near the mobile home park's entrance.
The neighbor and homeowner both confirmed that the suspect, later identified as 25-year-old Deshon Mansfield of Columbia, as the man they saw breaking into the residence. The owner identified the items being carried by Mansfield and was able to receive them back: a scarf, shoes and Christmas decorations.
Sgt. Benson adds that deputies reported that Mansfield smelled strongly of alcohol and became uncooperative as they attempted to arrest him; pulling away from deputies, yelling threats and profanities and not following orders.
He was subdued and taken to the Tuolumne County Jail, where he was additionally found to be in possession of a small baggie containing .78 grams of methamphetamine. She says an alcohol screening test returned a blood alcohol level of .182.
Mansfield was booked for felony burglary, resisting arrest, carrying a concealed dirk or dagger as well as for attempting to conceal evidence and being in possession of a controlled substance.