Yosemite Celebrates $40-million Mariposa Grove Restoration Project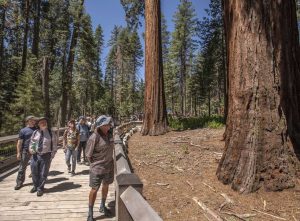 Newly Improved Mariposa Grove Of Giant Sequoias

View Photos
Sonora, CA — After being closed off over the past three years, visitors can once again visit the Mariposa Grove of Giant Sequoias.
The Mariposa Grove is home to 500 mature giant sequoias which are among the largest living things on Earth. The grove, and Yosemite Valley, were protected as part of the 1864 Yosemite Grant Act, the nation's first legislation focused on preserving federal lands.
The total cost of the restoration project was around $40-million, of which, $20-million was donated by the non-profit Yosemite Conservancy.
As for the changes, the National Park Service reports, "Instead of parking amid the grove, a visit today starts at the new Welcome Plaza near the park's South Entrance, where a cross section of a fallen sequoia that lived for more than 800 years reminds visitors of the ancient place they are about to explore. From the plaza, visitors will take a free two-mile shuttle bus ride to the Grove Arrival Area where habitat grows in what was once parking areas for vehicles, tour busses, trams and employees. The grove's trails are now made of natural surfaces instead of pavement, and wooden boardwalks hover over sensitive wetland to protect habitat and sequoia roots. Rattlesnake Creek is flowing again after culverts blocking waterflows were replaced by one of the elevated boardwalks. Another new trail invites people of all abilities to experience the famous Grizzly Giant and California Tunnel Tree."
An official ribbon cutting and tribal blessing was held yesterday at the site, and it featured several dignitaries.
"As the largest protection, restoration and improvement project in park history, this milestone reflects the unbridled passion so many people have to care for Yosemite so that future generations can experience majestic places like Mariposa Grove," said Yosemite National Park Superintendent Michael Reynolds. "These trees sowed the seeds of the national park idea in the 1800s and because of this incredible project it will remain one of the world's most significant natural and cultural resources."
In total, four acres of sequoia habitat were restored and 20,500 feet of asphalt were removed. The Mariposa Grove Welcome Plaza is located at the park's southern entrance at Highway 41.