Alleged Squatter-Thieves Using Stolen Backhoe Arrested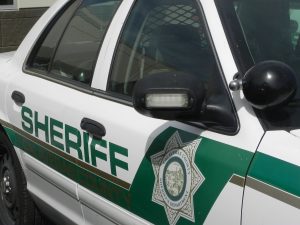 Calaveras County Sheriff

View Photos
San Andreas, CA — Deputies, arresting a trio at what was supposed to be an uninhabited home, also discovered a hijacked backhoe being used in broad daylight to burglarize the place.
According to Calaveras County Sheriff's spokesperson Sgt. Rachelle Whiting, the arrests were made in the two o'clock hour after deputies responded to a home in the 8000 block of Baldwin Street in Valley Springs for a report by a realtor of a burglary in progress.
Upon the deputies' arrival, two male and two female subjects were contacted on the property. During a safety sweep of the residence deputies noted that it appeared the subjects were illegally living there and the side garage door showed signs of forced entry.
Parked in the property's driveway deputies found a backhoe, engine running, its bucket filled with several items from the home. Deputies determined that the excavator had been stolen from Valley Springs Elementary School on Monday and later returned it to the school district.
Three Valley Springs residents were arrested at the home and booked into the Calaveras County Jail for first-degree burglary among other charges. James Whitehead, 48, was additionally charged with possession of stolen property and conspiracy; Cory Cassel, 39, was booked on two outstanding warrants as well as for conspiracy and possession of a stolen vehicle; Leah Robitaille, 34, was also charged with conspiracy. A fourth female subject was contacted at the scene and released.