Arrest Following Car Chase In Tuolumne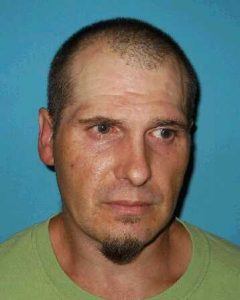 Floyd Crow Jr.

View Photos
Sonora, CA — The Tuolumne County Sheriff's Office arrested a wanted Sonora Man following a vehicle chase in Tuolumne.
Last night a deputy spotted a 1995 Buick sedan at 9:30pm with expired registration tags near the intersection of Pine Street and Chestnut Avenue. Spokesperson Sgt. Andrea Benson reports that when the deputy walked towards the vehicle to contact the man, the suspect put his car in drive and took off. The deputy reported having to jump out of the way to avoid being hit.
The driver, identified as 37-year-old Floyd Crow, was chased in the vehicle for four miles until he stopped in a private driveway on Yosemite Road and ran from the car. He was quickly apprehended by the deputy and taken into custody. Crow already had two warrants out for his arrest, and he now faces new charges of vehicle evasion with disregard for public safety, assault with a dangerous weapon, possession of methamphetamine, etc.