Feinstein Introduces The Keep Families Together Act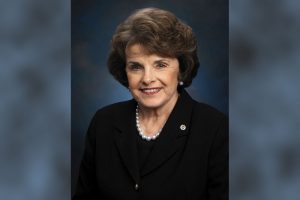 Dianne Feinstein

View Photos
Senate Judiciary Committee Ranking Member Dianne Feinstein (D-Calif.) and 31 of her colleagues have introduced legislation to keep immigrant families together by preventing the Department of Homeland Security from taking children from their parents at the border.
Feinstein was Wednesday's KVML "Newsmaker of the Day".
According to Feinstein's press release, the Keep Families Together Act was developed in consultation with child welfare experts to ensure the federal government is acting in the best interest of children. The bill is supported by the American Academy of Pediatrics, Kids In Need of Defense (KIND), Coalition for Humane Immigrant Rights of Los Angeles (CHIRLA), Children's Law Center, Young Center for Immigrant Rights and the Women's Refugee Commission.
In addition to Senator Feinstein, the bill is cosponsored by 31 senators, including Senators Chuck Schumer (D-N.Y.) and Kamala Harris (D-CA).
"The United States must not be a country that traumatizes young children by separating them from their parents. Young children have been taken from their parents' arms and federal law enforcement hasn't given parents even the most basic information about their children's whereabouts," Feinstein said. "Congress has a moral obligation to take a stand and say that families should not be forcibly separated. Many of these families are fleeing terrible violence, traveling thousands of miles on foot for the chance to file an asylum claim and save their lives. To traumatize them further is unconscionable, and I hope that our Republican colleagues will work with us to put an end to this immoral policy."
"Let me be clear: there is no law requiring this Administration to separate children from their parents—Attorney General Sessions and Secretary Nielsen are choosing to tear families apart to intimidate those who are lawfully seeking asylum in our country. It's extreme, heartbreaking, un-American, and has to stop," said Durbin.
"Ripping children from the arms of their parents is not border security," said Harris. "Our government should keep families together not tear them apart. This policy can result in lasting trauma for those children and their parents. We can keep America safe without being callous."
"The American Academy of Pediatrics (AAP) urges an immediate end to the policy that separates children from their parents at the border. Separating children from their parents contradicts everything we stand for as pediatricians – protecting and promoting children's health. We know that highly-stressful experiences, like family separation, can cause irreparable harm to children's health, disrupting their brain architecture and affecting short- and long-term health. The Keep Families Together Act takes important steps forward to protect families, and the AAP thanks Senator Dianne Feinstein (D-Calif.) for her leadership on this issue," said American Academy of Pediatrics President Colleen Kraft MD, MBA, FAAP.
On May 7, 2018, Attorney General Jeff Sessions announced that all adults who arrive at the border would be prosecuted for illegal entry, even if they attempt to seek asylum. This policy, which has never before been pursued (according to the press release), has resulted in parents being separated from their children.
Prosecuting individuals who are seeking asylum may also violate the United States' obligations under international law, including the U.N. convention on refugees and its Protocol.
At a May 24, 2018, Senate Judiciary Committee hearing, Customs and Border Protection informed Senator Feinstein that 658 children were taken from 638 parents during a 14-day period in May, an average of 47 children being taken from their parents each day.
To ensure the bill protects the welfare of children, it allows children to be separated from their parents only in the event they are being trafficked or abused by their parents. To provide an additional layer of protection, the bill provides for an immediate review by a superior upon the recommendation to separate, and only after consultation with a child welfare expert.
The "Newsmaker of the Day" is heard every weekday morning at 6:45, 7:45 and 8:45 on AM 1450 and FM 102.7 KVML.