Inmate Walks Away From Calaveras County Fire Camp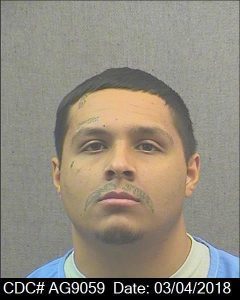 Inmate Ernest Anthony Morales

View Photos
Vallecito, CA – Clarke Broadcasting has learned that an inmate has escaped from the Vallecito Conservation Camp near Murphys and a "Be-On-The-Lookout" has been issued to all surrounding law enforcement.
The prisoner has been identified as 26-year-old Anthony Morales by California Department of Corrections and Rehabilitation (CDCR). He is considered a minimum-security inmate and is serving a four year sentence after being convicted of vehicle theft last year out of Fresno County. Corrections officials detailed that Morales walked away from the fire camp in Calaveras County last night. He was last seen in his dorm around 12:25 a.m. during a routine security check. Morales was later discovered missing and a search ensued around the dormitory area, surrounding buildings and the camp perimeter, according to correction officials.
A CDCR description of Morales indicates that he is a Hispanic male, 5'10", 259 pounds, with short dark brown hair and eyes. He has tattoos on his face. His picture is in the image box. Anyone who sees Morales should contact 911 immediately and not attempt to confront him. Anyone who may know Morales' whereabouts or have other relevant information regarding his escape is asked to contact the Vallecito Conservation Camp Commander at (209) 736-4922, or the Sierra Conservation Center Watch Commander at (209) 984-5291, extension 5439.
CDCR officials report that since 1977, ninety-nine percent of all offenders who have left an adult institution, camp, or community-based program without permission have been apprehended.