Prescribed Burn To Prepare For Fireworks Show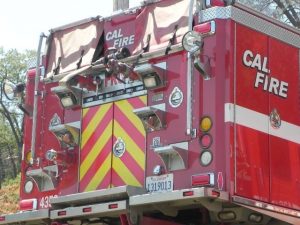 Cal Fire Truck

View Photos
Valley Springs, CA – Smoke may be visible in the Valley Springs area of Calaveras County next week as a prescribed burn will be sparked to prepare for a 4th of July fireworks display.
The Hogan Fireworks Fuels Reduction burn will be ignited by CAL Fire on Monday, June 11th near the New Hogan Reservoir. The goal is to clear hazardous fuels on the area used during the "Fireworks over New Hogan" pyrotechnics show. The burn will begin between the hours of 8:00 a.m. and 10:00 a.m. and will last around two and four hours. Control lines will also be in place along the lake's shoreline to help prevent any possible spread of fire from areas outside the fireworks show burn site. Additionally, fire units will remain at scene making sure all hotspots are extinguished after the prescribed burn is completed.
Resources on scene will include the United States Army Corps of Engineers, Calaveras County Air Pollution Control District, and Calaveras Consolidated Fire District.