CAL Fire To Ban All Burning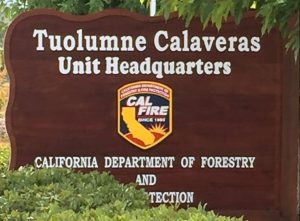 Cal Fire Tuolumne Calaveras Unit HQ sign

View Photos
Sonora, CA — Mother Lode property owner in Zone Two, which is above 3500 foot elevation, will get this weekend to finish their defensible space.
CAL Fire announced this evening that all permits will be suspended next week. The ban is a result of a wet winter combined with warming temperatures, which allowed for an abundant grass crop to dry out quickly, and heightened fire danger in both Tuolumne and Calaveras counties, according to CAL Fire officials.
"It is essential that residents remain prepared," said Chief Josh White, Tuolumne-Calaveras Unit Chief. "While the suspension of residential debris burning is in effect, I encourage property owners to use alternative disposal methods." Among those are chipping, composting and recycling, according to CAL Fire.
The ban will take effect at 8 a.m. Monday. Burn permits below 3500 feet, which is Zone One, were already suspended in May, as reported here.